Thursday, 15
(from my notes) To be honest, there are certain moments, where I don't need a global closeness that is suddenly created by someone who drops in but actually is far away. Like ghosts, they invade my life and pretend to understand how it feels. Yes, these only can have a vague idea of ​​the reality in which I am currently, the same as I can only anticipate something about their situation. Instead, there is an alleged involvement in something that only happens or appears on the screen of a device. What bothers me about it is especially the unexpected and the unplanned. When I answer a call, I don't know what to expect. You might now ask why I am answering in the first place, when I actually feel disturbed. Many people therefore never answer directly, but call back when it suits them. It is because I always suspect a reason behind. And this is where communication begins. It doesn't even have to be urgent. Even if it's just about keeping in touch, because that's how it continues.





Wednesday, 14
I felt very bad and guilty for not fasting. Yes, I even felt dirty. The one who fasts purifies himself. So this morning, still lying in bed, I decided to fast for at least a day. Very often people tell me that I should definitely try. At least for a few days or even just a day. I made it till 10 a.m., a thousand things went through my mind and I felt weak and without energy. I am neither a Muslim nor a Christian. I respect everyone for their beliefs. I have my own ideas that are not just related to one religion. There are things that interest me about Buddhism, Hinduism, Islam, Christianity and Judaism or the Rastafarian movement - especially their histories. Of course, most of my thoughts are independent of any religion and relate more to art and culture, music and theater, psychology and philosophy. This list is certainly unlimited. I told myself if I eat and drink now I don't have to feel bad and dirty. I will continue to stay focused and perhaps even work better. It's the first day at Art Space in Tujereng that I want to use for any kind of constructive activity. I have to break the fast early with a small breakfast. I apologize to all Muslims who are so strong and disciplined to pass this month of fasting with such dignity.


Tuesday, 13
Sand has been delivered, Ramadan has started. And mysterious things happen on the Tintinto compound. When I was clearing the place where the blocks will be made and placed, I found that one of our old broken pumps was missing. It's no big deal, of course, just a broken pump. But I still wonder. Because someone must have entered the site without authorization. Neither we nor the dogs noticed anything. Such a pump is heavy and weighs about 20 kg. Lifting it over the two meter high fence is not easy. It could have happened on a day when we went to the beach with the dogs. Then it must have been someone who is watching us and knows exactly when we are going out with the dogs. We talked about it and we both felt that both pumps were beyond repair. So why would anyone do such a thing? Why is this person not asking any of us if they can have one of the old pumps? Indeed, this story is inexplicable.


Monday, 12
(from my post at fb Art Space group)
Last day at the almost empty shop.
Preparing logo for the next location.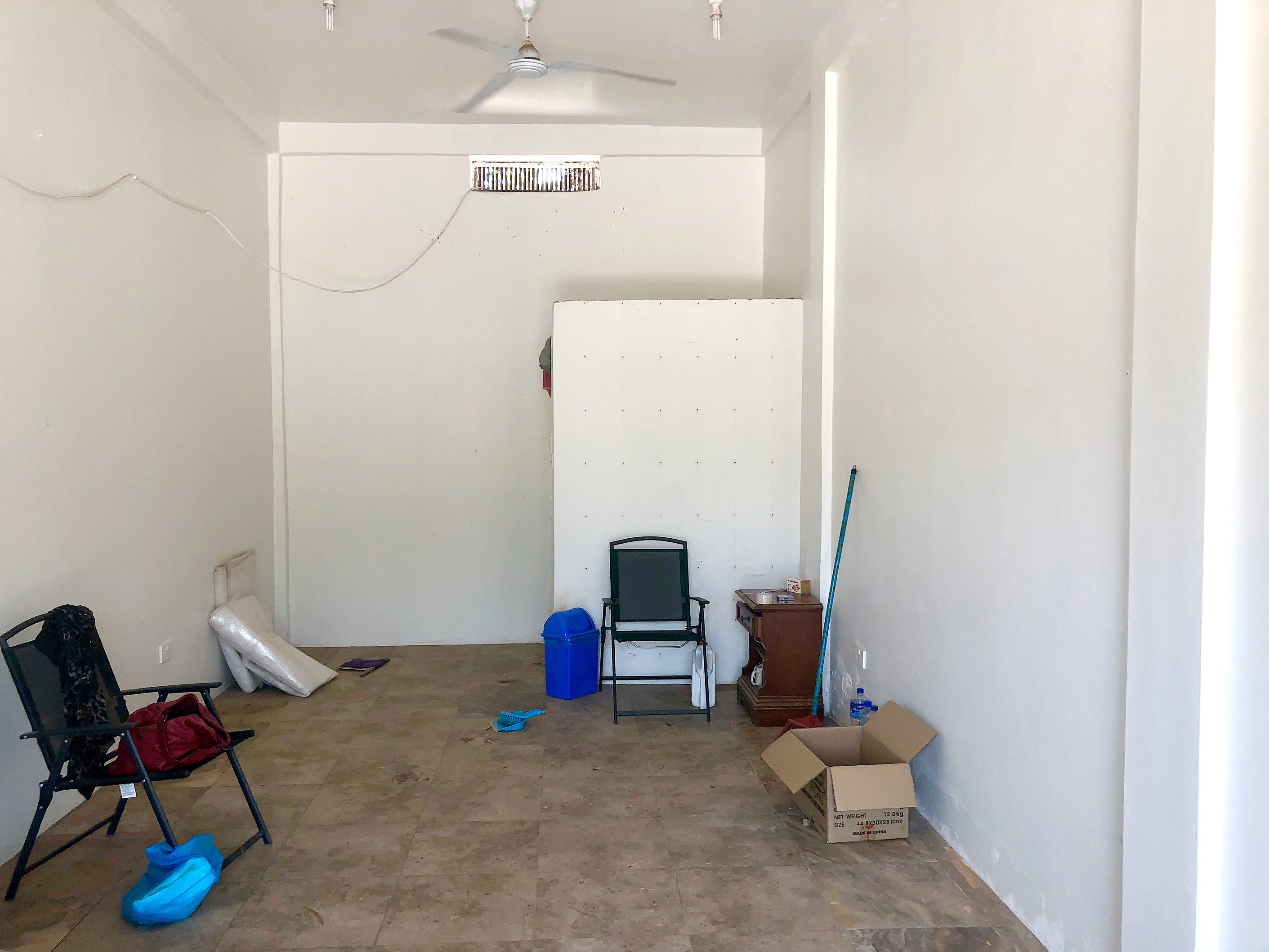 Sunday, 11
A very convincing statement by Hito Steyerl, which I found in my mailbox today via newsletter and which I reproduce here in English translation: Documentary works are not just copies, but appeals, role models, instructions, tutorials, even whole ethical treatises, with which attitudes to the world are proposed and be practiced.
Jolanda Wessel, KUNSTFORUM Band 273

Saturday, 10
(from my notes) It seems to me that we go through the world without the points of contact that could influence our lives by drawing consequences for our actions in the form of participation or even just attention. I'm not sure if this is a good thing or a bad thing. It sometimes feels like flying in space without any resistance or gravity. I recently wrote to a friend about. We are now thrown back to countryside only, but more time for the house. I have to see that i bring kind of regularity into the daily life to get not lost in seclusion.

Friday, 9
(from my notes) everything in the bag: the road tax sticker and two licenses. Feel freer now. And to my great surprise, the architects cabinet fitted in the car so we didn't need a taxi bagga. I took the photo shown below in the morning while waiting in a short queue at the Trust Bank entrance. Something I've always liked: a reality that obscures what is actually to be seen. I loved playing with broken glass and taking photos through the narrow side. Or through the transparent plastic cover of my record player, which was placed at the head of my loft bed. Back when I lived in the tower room of the creative flat-sharing community Richard-Dehmel Strasse. However, this photo here is all made up of reflections framed by the nearby wall and pillar.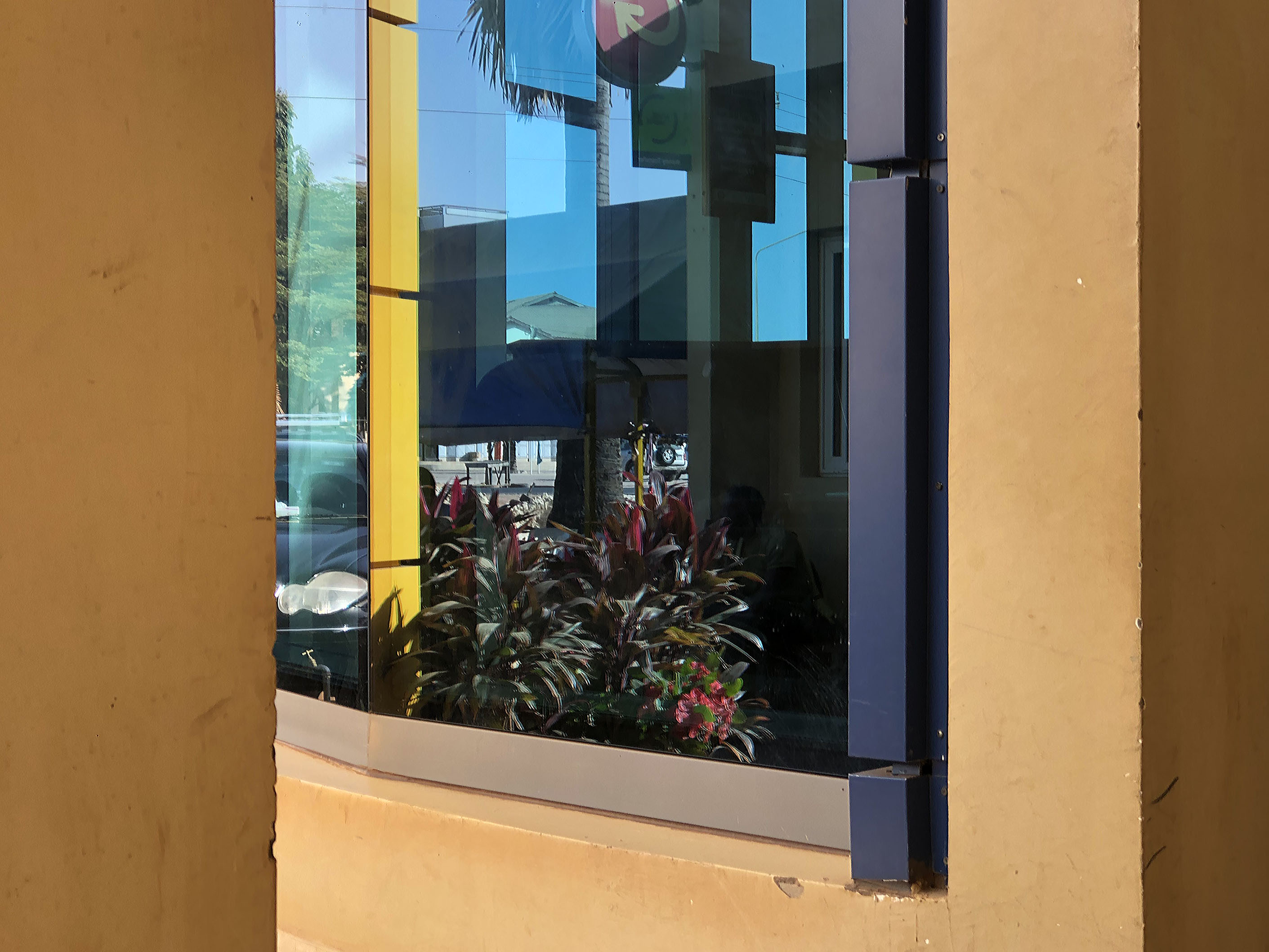 Thursday, 8
It was the last day I could do the post on fb from our art space in town. Yesterday afternoon we transported the drawers of the architect cabinet with my parents' collection to it's new home The House of Culture Tintinto. In the morning we had an odyssey to get the sticker for the road tax as well as the driver's license. When checking the car it was found that our license plate was out of order. We'd have to go to the trust bank and deposit money there. After that, we should take the receipt to a specific police station where they will print out the license plates. The drive to the bank alone was a burden as we were stopped by a police officer who complained that my driver's license had expired. After a long back and forth I was close to tears, but finally he let us go. When we got there, we saw that at least 20 people lined up in front of the bank's entrance. They were sitting under a tent what meant it would take long. So we postponed this action and drove to the place for driver's licenses. A policewoman there told us we had to go somewhere else first and get a certificate. When she realized we didn't understand where to go, she was kind enough to come with us. And not only that, she took care of the formalities for us both there and at the original location and saved us hours of waiting. In the evening we saw T2 Trainspotting, whose production method I prefer to action films. I mean especially the coloring of the pictures and the use of the zoom lens.


Wednesday, 7
(from my post at fb Art Space group)


Otto Rodewald (1891-1960) - Dolphins, 1955, lithography, 33.4x49.2cm



Tuesday, 6
I think I definitely needed that break, the Easter break. Nothing complicated to think about, just watching TV. Sometimes I googled the films to read their plot on Wikipedia. I even looked at the dollar value of some actors at times. For example: What is Sylvester Stallone worth? $ 400 million. We saw Rambo 3 and 4 and Escape 1 and 2. This morning I / we then had to go to the GRA (Gambia Revenue Authority) to pay the road tax, which actually took a few hours. Tomorrow we have to go there again and get the sticker for the windshield and possibly the driver's license. Today I learned that Ramadan will start in a week. Time is running out and the art space on Kololi Road is almost empty.





Art Space Work of the Month
Konrad Schulz (1940-2001) - Huge hot tyre, 1970, serigraphy, 65x50cm



Monday, 5
(no notes)

Sunday, 4
(no notes)

Satursay, 3
(from my post on fb) Our first banana harvest in a collage with fb stickers.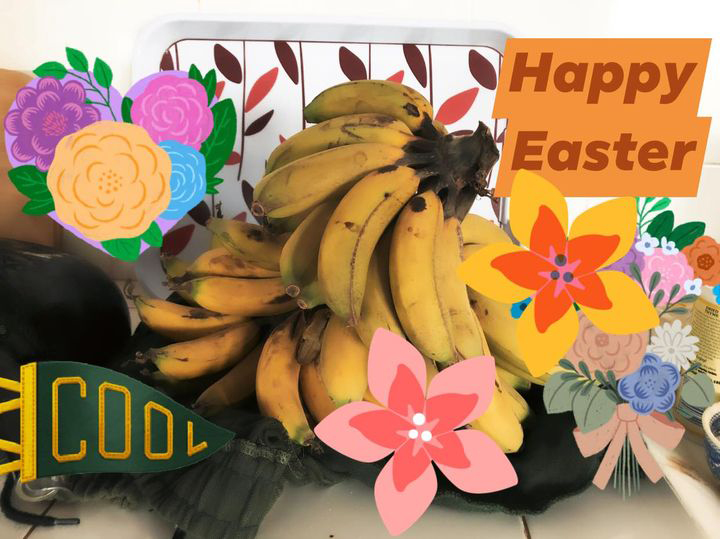 Friday, 2
(no notes)

Thursday, 1
Not wanting to perceive gray areas means wanting to simplify reality. There is not only good and bad and nothing in between. There was a time when I loved working with litho film (steep graduation that reduces gray areas, sometimes until only black and white remains). It was in that post-punk era. I didn't like crosshatching, I just wanted to paint opaquely. Quickly judging what is good and what is bad is basically not for me. Of course I follow certain rules, but for me that doesn't mean that I'm afraid to express myself like I want. It's just a choice to follow certain rules. For example, when I stick to the spelling of dictionaries that doesn't mean I cannot read another choice of writing. A lot of people don't care about spelling and even play with mistakes to create ambiguity that I like but with others. The statement, the train of thought, the thesis and the discourse are crucial for me and I don't want to complicate these with flourishes of ambiguities. If someone reads an additional meaning, this is not my intention. Which does not mean that I reject any pluralistic views, it is just not my intention. On the contrary, by no means do I support a kind of reading in the positivist sense. It is like it is and there is no space for diskussion. No, understanding can always be contained in subjective perception and something is interpreted differently than it is meant. I don't mean misunderstanding, but interactive understanding.